Cecil B. DeMented (17-May-2000)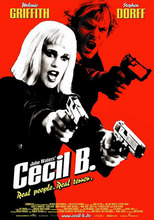 Director: John Waters
Writer: John Waters
Music by: Zoe Poledouris; Basil Poledouris
Producers: Joe Caracciolo, Jr.; John Fiedler; Mark Tarlov
Keywords: Comedy




Anti-Hollywood terrorists kidnap a top-tier actress, looking to exploit her for the purposes of an independent film with a pointed message.
ABSTRACT
Revolutionary underground auteur Cecil B. DeMented and his crew of similarly-minded acolytes kidnap Hollywood A-lister Honey Whitlock, aiming to use her for a clandestine production railing against the studio system and its paint-by-numbers product. Never one to shy away from infamy nor his various neuroses, Cecil must fight against fundamentalists, Teamsters, and cops determined to bring him down as he looks to complete his magnum opus.
CAST
Melanie Griffith
... Honey Whitlock
Stephen Dorff
... Cecil
Alicia Witt
... Cherish
Adrian Grenier
... Lyle
Larry Gilliard, Jr.
... Lewis
Maggie Gyllenhaal
... Raven
Jack Noseworthy
... Rodney
Mink Stole
... Mrs. Mallory
Ricki Lake
... Libby
Patty Hearst
... Fidget's Mom
Mike Shannon
... Petie
and
Kevin Nealon
... Himself
Eric M. Barry
... Fidget
Zenzele Uzoma
... Chardonnay
Erika Lynn Rupli
... Pam
Harriet Dodge
... Dinah
Roseanne Barr
... Herself
Eric Roberts
... Honey's Ex
Ray Felton
... Roy Stillings
John Michaelson
... Charles
Jewel Orem
... Maid
Bill Grimmett
... Mayor Fenwick
Jeffrey Wei
... William
Sloane Brown
... Newscaster
Billy Green
... Child A
Mia Walker
... Child B
James Klingenberg
... Child C
Ginger Tipton
... Box Office Lady
Nathan Stolpman
... Ticket Taker
Melanie Gorombol
... Candy Counter Girl
Gary Wheeler
... Theatre Manager
Joyce Flick Wendl
... Puker
Tyler Mason Buckalew
... Teen Boy
Tara Garwood
... Charles Theater Girl
Marty Lodge
... Film Commissioner
James Byrne Reed
... Producer
Mark Bernier
... Studio Executive
Patsy Grady Abrams
... Family Woman A
Rhea Feiken
... Family Woman B
Shana Gelbard
... Family Woman C
Susan Lowe
... Family Lady A
Mary Vivian Pearce
... Family Lady B
Michael Gabel
... Film Delivery Driver
Mark Joy
... Fidget's Dad
Alan J. Wendl
... Security Teamster
Peter Gil
... Director
Eric Richardson
... D.P. Jean Pierre
Marybeth Wise
... A.D.
Cynthia Webb-Manley
... Large Lady
Channing Wilroy
... Shop Steward
Dan Morgan
... Teamster
Delaney Williams
... Teamster
Frank Ferrara
... Teamster
Steve Mack
... Teamster
Michael Willis
... Teamster
G. Lee Fleming
... Sniffles
Scott Morgan
... Groupie
Tim Caggiano
... Porno Fan
Judith Knight Young
... Ticket Seller
Tyler Miller
... Fan A
Geoffrey I. Grissett
... Boy Fan
Brooke Houghton
... Girl Fan
Joshua Billings
... Drive-In Manager
Jeff Perryson
... Jock A
Terry McCrea
... Jock B
Conrad Karlson
... Psychiatrist
Rosemary Knower
... Cecil's Mom
Doug Roberts
... Cecil's Dad
Nat Benchley
... Swat Cop A
Dave Trovato
... Swat Cop B
Billy Tolzman
... Petie's Trick
Jonathan Fiorucci
... Raven's Groupie
REVIEWS
Review by anonymous (posted on 19-Apr-2005)
The basic plot of the movie is a group of people decide to make a movie and kidnap a well-known actress to play the lead. The odd part? They've all made a pact not to have any sort of sexual relations until they complete the movie. The ending sticks out most in my mind. Personally I think there's only one way to watch this movie and have it make any sort of sense: You must be on mind altering substances.
---
Do you know something we don't?
Submit a correction or make a comment about this profile

Copyright ©2019 Soylent Communications