All Mine to Give (Nov-1957)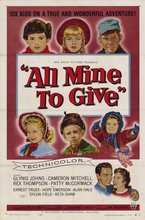 Director: Allen Reisner
Writers: Dale Eunson; Katherine Eunson
From short story by: Dale Eunson (short story, published in Cosmopolitan)
Music by: Max Steiner
Producer: Sam Wiesenthal




A Scottish immigrant couple settle in rural 1850 Wisconsin, raising six children and struggling for existence. Tragedy strikes not once but multiple times, and it is clear the family will have to find homes for most of the children. Sweet and then heart-wrenching tear-jerker, becoming somewhat of a Christmas classic despite mostly adequate performances; good score by Max Steiner.
| Name | Occupation | Birth | Death | Known for |
| --- | --- | --- | --- | --- |
| Ellen Corby | Actor | 3-Jun-1911 | 14-Apr-1999 | Grandma on The Waltons |
| Royal Dano | Actor | 16-Nov-1922 | 15-May-1994 | The 7 Faces of Dr. Lao |
| Hope Emerson | Actor | 29-Oct-1897 | 25-Apr-1960 | Caged |
| Alan Hale, Jr. | Actor | 8-Mar-1921 | 2-Jan-1990 | The Skipper on Gilligan's Island |
| Glynis Johns | Actor | 5-Oct-1923 | | Winifred Banks in Mary Poppins |
| Rita Johnson | Actor | 13-Aug-1913 | 31-Oct-1965 | Here Comes Mr. Jordan |
| Patty McCormack | Actor | 21-Aug-1945 | | The Bad Seed |
| Cameron Mitchell | Actor | 4-Nov-1918 | 6-Jul-1994 | The High Chaparral |
| Jon Provost | Actor | 12-Mar-1950 | | Timmy Martin on Lassie |
| Reta Shaw | Actor | 13-Sep-1912 | 8-Jan-1982 | The Ghost and Mrs. Muir |
| Ernest Truex | Actor | 19-Sep-1889 | 26-Jun-1973 | His Girl Friday |
CAST
REVIEWS
Review by Colin Roper, Birmingham, England, UK (posted on 11-Apr-2008)
I have a PAL video tape copy of the film "The Day They Gave Babies Away" recorded from the TV when it was transmitted and I have recently made a dvd copy of it. Every time I watch it I am moved to tears and even if parts of it are watched selectively it is still very moving, a lot of its appeal is that it is based on a true story. I believe that the film was released in Britain in the mid 1950's and was a B picture. Although the film is not perfect I feel that it deserves to be called a classic.
---
Review by David Rasch (posted on 30-May-2009)
I must have been eight or nine when I first saw this movie. What stuck with me was the strong family ethic these kids showed. As a boy, I couldn't cry openly, but I sure did-in private and it still brings a tear to my eye. To imagine being 12 and having to give your brothers and sisters to neighbors and friends so they can survive! On an historical note, this was not that uncommon in those days when there was no developed government social network. People took care of each other. There is a profound lesson to be learned here. Families take care of people better than institutions. Witness the Native American children who were forced into orphanages and schools where they had to give up who they were. Forgive my histrionics. Question: If this movie were made to day, would it see a screening? Who would protest its content?
---
Review by Anonymous (posted on 23-Dec-2007)
I saw this movie 24 years ago, and was extremely moved by it. It is a wonderful story about a family that tragedy strikes, and the children are left to take care of themselves. I cried watching it for the first time, and now just saw it on TCM again, 24 years later--and cried just as much. I won't forget this movie title. It is a classic that everyone should see. The children actors are wonderful. I would love to purchase this movie sometime to add to my collection.
---
Review by Mike Anderson (posted on 1-Jun-2008)
First saw the movie 50 years ago and was so moved by the depth of all characters/stars as well as the story. Patty McCormack was just wonderful, and quickly became my first movie-star crush.(I was twelve years old in 1958). Cameron Mitchell and Glynis Johns were great as the parents but the children stars really made this movie so special. Rex Thompson as the eldest brother left such an impression on my young mind and I remember like yesterday when he gave away his brothers/sisters to the other families. Believe I saw almost every movie made in the 50's and this was my favorite along with Anthony Quinn's role in "The Hunchback of Notre Dame." Thompson and the wonderfully talented Patty McCormack should have starred in a lot more movies.
---
Do you know something we don't?
Submit a correction or make a comment about this profile

Copyright ©2019 Soylent Communications