The Bourne Supremacy (15-Jul-2004)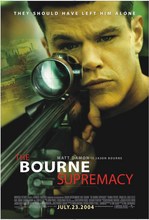 Director: Paul Greengrass
Writer: Tony Gilroy
From novel by: Robert Ludlum
Music by: John Powell
Producers: Frank Marshall; Patrick Crowley; Paul L. Sandberg
Keywords: Action/Thriller, Espionage, Assassination, Amnesia, Sniper, Explosions




First sequel to The Bourne Identity continues the action-packed saga of an ex-CIA assassin and wanted man gripped by psychogenic amnesia.
ABSTRACT
First sequel to The Bourne Identity (2002). Two years removed from his traumatizing ordeal in The Bourne Identity, Jason Bourne looks to settle into a quiet life in Palolem, India with Marie Kreutz, recording flashbacks about his past life as an assassin for the CIA as he experiences them. The CIA's best and brightest operatives don't intend to give up quite so easily, however, soon sending our protagonist on the run once more as they look to hunt him down and pacify him as an apparent threat to their continued operation.
[watch trailer]
CAST
Matt Damon
... Jason Bourne
Franka Potente
... Marie
Brian Cox
... Ward Abbott
Julia Stiles
... Nicky
Karl Urban
... Kirill
Gabriel Mann
... Danny Zorn
and
Joan Allen
... Pamela Landy
Marton Csokas
... Jarda
Karel Roden
... Gretkov
Tomas Arana
... Martin Marshall
Tom Gallop
... Tom Cronin
Tim Griffin
... Nevins
Michelle Monaghan
... Kim
Ethan Sandler
... Kurt
John Bedford Lloyd
... Teddy
Oksana Akinshina
... Irena Neski
Jevgeni Sitochin
... Mr. Neski
Marina Weis-Burgaslieva
... Mrs. Neski
Sean Smith
... Vic
Maxim Kovalevski
... Ivan
Patrick Crowley
... Jack Weller
Jon Collin
... Jarhead
Sam Brown
... Jarhead
Shane Sinutko
... Jarhead
Barnaby P. Smith, Jr.
... CIA Techie
Dominique Chiout
... Waitress
Wanja Mues
... Night Clerk
Aleksey Shmarinov
... Moscow Taxi Driver
Stephan Wolf-Schönburg
... Suspicious Cop
Olov Ludwig
... Market Security Guard
Keshav Nadkarni
... Mr. Mohan
Violetta Gräfin Tarnowska Bronner
... Neski Neighbor
Aleksei Medvedev
... Young Cop
Aleksander Doobina
... 2nd Cop
Alexander Boyev
... 2nd Taxi Driver
Claudio Maniscalco
... Immigration Officer
Manfred Witt
... Doorman
Alexsei Trotsenko
... Vodka Police Passenger
Victoria Unikel
... Mercedes Driver
Oksana Semenova
... Mercedes Passenger
Vitalei Abdulov
... Volga Taxi Owner
Dirk Schoedon
... Berlin Taxi Driver
Ivan Shvedoff
... Moscow Policeman
Denis Burgazliev
... Moscow Policeman
Nick Wilder
... Delta C.O.
REVIEWS
Do you know something we don't?
Submit a correction or make a comment about this profile

Copyright ©2019 Soylent Communications