I Want to Live! (18-Nov-1958)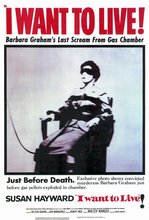 Director: Robert Wise
Writers: Nelson Gidding; Don M. Mankiewicz
From articles by: Ed Montgomery
Music Composed and Conducted by: John Mandel
Producer: Walter Wanger
Keywords: True Crime, Prison, Death Row




Barbara Graham, a woman of easy virtue and associate of known criminals, is arrested along with two men for the murder of widow Mable Monahan during a robbery. She proclaims her innocence; is she a murderer or a victim of circumstance? Based on a true story. Won the Oscar for Best Actress; received additional nominations for Best Picture, Best Adaptation, Best Cinematography and Best Editing.
| Name | Occupation | Birth | Death | Known for |
| --- | --- | --- | --- | --- |
| Raymond Bailey | Actor | 6-May-1904 | 15-Apr-1980 | Milburn on Beverly Hillbillies |
| Theodore Bikel | Actor | 2-May-1924 | 21-Jul-2015 | The Defiant Ones |
| Dabbs Greer | Actor | 2-Apr-1917 | 28-Apr-2007 | Rev. Alden on Little House |
| Susan Hayward | Actor | 30-Jun-1918 | 14-Mar-1975 | I Want to Live! |
| Gavin MacLeod | Actor | 28-Feb-1931 | | Capt. Stubing on Love Boat |
| Shelly Manne | Drummer | 11-Jun-1920 | 26-Sep-1984 | West Coast jazz drummer |
| John Marley | Actor | 17-Oct-1907 | 22-May-1984 | Godfather horsehead recipient |
| Gerry Mulligan | Jazz Musician | 6-Apr-1927 | 20-Jan-1996 | Greatest jazz baritonist of all time |
| Simon Oakland | Actor | 28-Aug-1915 | 29-Aug-1983 | Tony Vincenzo on Kolchak |
| Frank Rosolino | Jazz Musician | 20-Aug-1926 | 26-Nov-1978 | Jazz trombonist, Turn Me Loose! |
| Virginia Vincent | Actor | 3-May-1924 | | I Want to Live! |
CAST
Susan Hayward
... Barbara Graham
with
Simon Oakland
... Ed Montgomery
Virginia Vincent
... Peg
Theodore Bikel
... Carl Palmberg
Wesley Lau
... Henry Graham
Philip Coolidge
... Emmett Perkins
Lou Krugman
... Jack Santo
Jazz Combo
Gerry Mulligan
... Jazz Combo
Shelly Manne
... Jazz Combo
Red Mitchell
... Jazz Combo
Art Farmer
... Jazz Combo
Frank Rosolino
... Jazz Combo
Pete Jolly
... Jazz Combo
Bud Shank
... Jazz Combo
James Philbrook
... Bruce King
Bartlett Robinson
... District Attorney
Gage Clarke
... Richard G. Tibrow
Joe De Santis
... Al Matthews
John Marley
... Fr. Devers
Raymond Bailey
... San Quentin Warden
Alice Backes
... San Quentin Nurse
Gertrude Flynn
... San Quentin Matron
Russell Thorson
... San Quentin Sgt.
Dabbs Greer
... San Quentin Capt.
Stafford Repp
... Police Sgt.
Gavin MacLeod
... Police Lt.
Wendell Holmes
... Detective
REVIEWS
Review by DP Advocate (posted on 14-Feb-2005)
I would have given this movie 4 stars just because of the fabulous sound track with Gerry Mulligan, Frank Rosolino, Pete Jolly, Shelly Manne, Art Farmer, et al. The opening scene with several of them on stage was pure magic, as was the ability of the arranger (Mandel) and producer (Wanger) to weave jazz in and out of the film in a most excellent and innovative manner.
The movie also was useful in that it archived for posterity the grim mechanics of execution via lethal gas, a method no longer used anywhere.
Now for the bad stuff. The movie opens and closes with a statement about it being "factual". What an absolute crock. The Barbara Graham as documented by a number of others is unrecognizable in this movie. Clearly, the producer wanted to make an anti-death penalty statement, and he was willing to butcher the truth to do it.
Not that it really matters 50 years later, but the kind old warden Teets, the guy who covered the chamber before her arrival so she wouldn't see it until the very end, told two different people a couple of years after the execution that Barbara admitted to him she laid Mrs. Monahan's head open. He agonized over keeping that information to himself for so long. His reason for not going public with it was to spare Barbara's family and friends -- in case they thought she was innocent, he didn't want to be the one who ruined that for them. He believed that prison wardons should not concern themselves with guilt or innocence, but just carry out their court orders.
The movie tried hard to paint Barbara as a different kind of victim than that of reality. The movie would leave you with the idea that she was a victim of the legal system. In real life, she was a victim of a bad childhood and the poor choices she made as an older teenager, which led to a life of crime and drug addiction. In real life she was a heroin addict when she left her husband. The movie showed her leaving home with the baby, when in fact she took her money and drugs and left the baby with her addict husband. She most certainly had no baby with her when she moved in with Perkins. Perkins then asked her to join the Monahan caper because it was felt that Mrs. Monahan would only answer the door late at night if a woman rang the bell. The police knew she had been with Perkins and Santo. A few weeks after the murder, they spotted her while she was making a heroin buy. They waited for her to shoot up and then tailed her on the bus trip back to the apartment.
Two separate accomplices told police they saw Barbara hitting Mrs. Monahan when they followed her into the house. Perkins killed one of them for talking. The other one turned state's evidence in exchange for immunity. You only saw the latter in the movie.
Barbara's childhood friends couldn't believe the Barbara they knew was capable of murder. That's because they didn't know Barbara the heroin addict. Justice was served in the gas chamber in 1955. Justice was mocked in 1958 when I Want to Live was released.
---
Do you know something we don't?
Submit a correction or make a comment about this profile

Copyright ©2019 Soylent Communications