Dragon: The Bruce Lee Story (7-May-1993)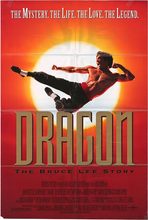 Director: Rob Cohen
Writers: Rob Cohen; Edward Khmara; John Raffo
Music: Randy Edelman
Producer: Raffaella De Laurentiis
Keywords: Action/Adventure, Drama, Biography, Martial Arts




Dramatized life of martial artist and legendary film star Bruce Lee, up to his early death from a brain edema in 1973. Though with many fictionalized events in the story, many little more than hagiographic cliché, Jason Scott Lee excels at capturing the spirit of the man. Better to read a proper biography, if looking for anything factual.
REVIEWS
Review by Debbie (posted on 4-Jun-2007)
I've seen plenty of movies in my time.....not everything, but plenty. On occasion a little tidbit slips past, and I have to say that 'Dragon-The Story of Bruce Lee' is one such phenomenal tidbit. From the opening of the movie when he was a little boy, and the character played by the little boy, you knew there was going to be world shaking. I remember the Bruce Lee era, (I lived through it). I must say that this is one of the finer pictures made on Bruce Lee, and I'm sure he would be proud to see it if he were alive and with us today. Jason Scott Lee, you are a phoenomenal performer/and sexy too. I'm glad I finally had the opportunity to view the picture.
---
Do you know something we don't?
Submit a correction or make a comment about this profile

Copyright ©2019 Soylent Communications