My Blueberry Nights (16-May-2007)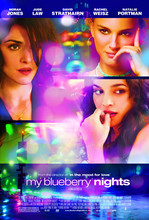 Director: Wong Kar Wai
Writers: Wong Kar Wai; Lawrence Block
Original Score by: Ry Cooder
Producers: Wong Kar Wai; Jacky Pang Yee Wah
Keywords: Romantic Drama




Burned by a messy breakup, a young woman embarks on an emotional journey across America filled with curious characters.
ABSTRACT
Elizabeth, a troubled young New Yorker easing the pain of a recent breakup with blueberry pie a la mode from friend Jeremy's diner, leaves her city to set out on an off-kilter journey across the United States. Elizabeth's voyage takes her from a spell of odd jobs in Memphis to time spent working at a Nevada casino, heartbreak and sorrow a common theme with seemingly every stranger she comes across.
CAST
Norah Jones
... Elizabeth
Jude Law
... Jeremy
David Strathairn
... Arnie
Rachel Weisz
... Sue Lynne
Natalie Portman
... Leslie
Chad Davis
... Boyfriend
Katya Blumenberg
... Girlfriend
John Malloy
... Diner Manager
Demetrius Butler
... Male Customer
Frankie Faison
... Travis
Adriane Lenox
... Sandy
Benjamin Kanes
... Randy
Chan Marshall
... Katya
Michael Hartnett
... Sunglasses
Michael May
... Aloha
Jesse Garon
... Young Poker Player
Sam Hill
... Fat Guy
Tracy Blackwell
... Matron
Michael Delano
... Cowboy
Audrei Kairen
... Poker Player
Bill Hollis
... Doctor
Charles Clayton Blackwell
... Used Car Salesman
Hector Leguillow
... Cook
REVIEWS
Review by jilly simmons (posted on 23-Jun-2009)
One of the slowest, most boring films it's been my misfortune to sit through. What a waste of an excellent cast - I expected nothing (and got it) from Jude Law!
---
Do you know something we don't?
Submit a correction or make a comment about this profile

Copyright ©2019 Soylent Communications