The Big Sky (6-Aug-1952)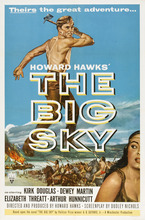 Director: Howard Hawks
Writer: Dudley Nichols
From novel: The Big Sky by A. B. Guthrie
Music Composed and Directed by: Dimitri Tiomkin
Producer: Howard Hawks
Keywords: Western




Frontiersmen Jim Deakins and Boone Caudill and a group of other men leave 1832 St. Louis to journey up the Mississippi River through unfriendly territory, returning a beautiful Blackfoot princess, Teal Eye, and hoping to establish trade relations with the other friendly Blackfoot. In between are rival fur traders, hostile Indians, and the elements. Strong performances, vivid scenery (though black and white), rollicking adventure; among Howard Hawks' best work. Some prints seem in poor preservation. Received Oscar nominations for Best Supporting Actor and Best Cinematography.
| Name | Occupation | Birth | Death | Known for |
| --- | --- | --- | --- | --- |
| Buddy Baer | Boxing | 11-Jun-1915 | 18-Jul-1986 | Jack and the Beanstalk |
| Jim Davis | Actor | 26-Aug-1909 | 26-Apr-1981 | Jock Ewing on Dallas |
| Kirk Douglas | Actor | 9-Dec-1916 | | Spartacus |
| Arthur Hunnicutt | Actor | 17-Feb-1910 | 26-Sep-1979 | The Big Sky |
| Dewey Martin | Actor | 8-Dec-1923 | | The Big Sky |
| Hank Worden | Actor | 23-Jul-1901 | 6-Dec-1992 | The Searchers |
CAST
REVIEWS
Review by anonymous (posted on 17-Mar-2006)
I have seen this film several times on TV and thoroughly enjoyed it on each occasion. My only regret is being unable to find it on DVD. I think I could enjoy it more if I were able to see it in its theatrical, uncut version. I have always wondered why such a panoramic story was shot in black and white. The scenery certainly deserved a technicolor treatment. Perhaps it was because some "exterior" scenes were so obviously shot on a soundstage. Nonetheless, the story of this group of indian fur traders and their keel boat made for a facinating story. I guess the most memorable recollections I have of this story was the enjoyable narrative of one of its supporting characters, played by Arthur Hunnicutt, and the only appearance on film of Elizabeth Threatt, who played the indian princess, Teal Eye. I have often wondered what became of her, and even Google couldn't answer that.
---
Do you know something we don't?
Submit a correction or make a comment about this profile

Copyright ©2019 Soylent Communications