Bride of Frankenstein (22-Apr-1935)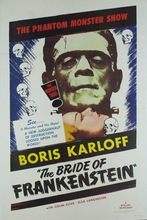 Director: James Whale
Writers: William Hurlbut; John Balderston
From novel: Frankenstein by Mary Shelley
Music: Franz Waxman
Producer: Carl Laemelle, Jr.
Keywords: Horror, Frankenstein




Although the monster clearly died in the conflagration finale of the first film, it somehow survived. Now a Dr. Pretorius, also researching the creation of life, convinces Dr. Frankenstein that his monster must have a mate. Director James Whale only agreed to making this sequel after he was granted total creative control over the project. While Frankenstein (1931) is a masterpiece, this exceeds it. Perhaps the best horror film of all time.
| Name | Occupation | Birth | Death | Known for |
| --- | --- | --- | --- | --- |
| Colin Clive | Actor | 20-Jan-1900 | 25-Jun-1937 | Frankenstein |
| E. E. Clive | Actor | 28-Aug-1879 | 6-Jun-1940 | Tenney in Bulldog Drummond |
| Dwight Frye | Actor | 22-Feb-1899 | 7-Nov-1943 | Renfield in 1931 Dracula |
| Valerie Hobson | Actor | 14-Apr-1917 | 13-Nov-1998 | Kind Hearts and Coronets |
| Boris Karloff | Actor | 23-Nov-1887 | 2-Feb-1969 | Horror actor |
| Elsa Lanchester | Actor | 28-Oct-1902 | 26-Dec-1986 | Bride of Frankenstein |
| Una O'Connor | Actor | 23-Oct-1880 | 4-Feb-1959 | Googly-eyed character actress |
| Ernest Thesiger | Actor | 15-Jan-1879 | 14-Jan-1961 | Dr. Pretorius in Bride of Frankenstein |
CAST
REVIEWS
Do you know something we don't?
Submit a correction or make a comment about this profile

Copyright ©2019 Soylent Communications