The Way of the Gun (8-Sep-2000)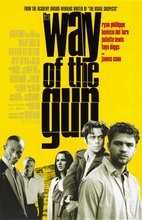 Director: Christopher McQuarrie
Writer: Christopher McQuarrie
Music by: Joe Kraemer
Producer: Kenneth Kokin
Keywords: Crime, Kidnapping, Mexico




Two violent criminals run into big trouble when they kidnap a surrogate mother with ties to the Mafia.
ABSTRACT
Robin, surrogate mother carrying a baby for a well-to-do couple, is kidnapped by Longbaugh and Parker, two notorious criminals anticipating a hefty payday by holding her for ransom. What the pair don't know is that the wealthy couple in question are tied to the Mafia, a fact made evident when they are confronted by a mob lawyer and forced to flee to Mexico with a cast of assassins hot on their tail.
CAST
REVIEWS
Review by Striker5 (posted on 14-Aug-2007)
The Way of the Gun is a brutal and psychologically complex crime drama centering on the kidnapping of a woman who is the surrogate mother for an organized crime figure. The film is notable in that it is the directorial debut of Christopher McQuarrie, the Oscar winning writer of The Usual Suspects. The plot focuses on two criminals (Benicio del Toro and Ryan Phillipe) who plan and execute the kidnapping of a young woman (Juliette Lewis) who is the surrogate mother of a wealthy couple. After the kidnapping, it is revealed that "father" is a powerful organized crime boss, Chidduck (Scott Wilson). Chidduck enlists the help of his fixer and friend Sarno (James Caan) and his security detail (Taye Diggs and Nicky Katt) to eliminate the kidnappers and rescue the mother. The narrative of the movie focuses on the growing relationship between del Toro, Phillipe and Lewis, the shifting alliances of Wilson, Caan, and Diggs and issues of family, loyalty, and friendship. The film is full of good performances, notably del Toro and Caan. The screenplay is very smart and that is the film's only serious failing. There is a lot going on and the subtleties of the different characters and the plot twists are a lot to grasp, even for a perceptive viewer. Upon watching the commentary, McQuarrie would make observations on different points in the movie that I would never have picked up on and were still vague, even after listening to the directors explanation. The action and violence are first rate. McQuarrie's brother is a Navy SEAL and was brought in as a technical adviser (commentary). This film is especially praised by the military and law enforcement for its realistic depiction of shooting and close quarters battle tactics. According to the commentary, there is also a personal subtext wherein McQuarrie is mocking Hollywood thriller/action movies. This is apparently driven by his disgruntlement at being typed as a writer of crime dramas, due to the success of The Usual Suspects. As noted, only a preternaturally gifted viewer would ever pick up on this. The film also features a foul-mouthed Sarah Silverman for a brief, but immensely satisfying opening scene.
---
Do you know something we don't?
Submit a correction or make a comment about this profile

Copyright ©2019 Soylent Communications