Papillon (16-Dec-1973)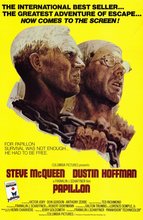 Director: Franklin J. Schaffner
Writers: Dalton Trumbo; Lorenzo Semple, Jr.
Based on a book: Papillon by Henri Charrière (memoir)
Music by: Jerry Goldsmith
Producers: Robert Dorfmann; Franklin J. Schaffner
Keywords: Action/Adventure, Prison, Biography




A minor criminal and safecracker is sentenced to 20 years imprisonment at Devil's Island in French Guiana for a murder he likely did not commit. Years of harsh brutality and solitary confinement take their toll, exacerbated by extended sentence from repeated escape attempts. Purported true story of Henri Charrière (nicknamed Papillon, or "butterfly"), adapted from his grim memoir. Received Oscar nomination for Best Dramatic Score.
[watch trailer]
| Name | Occupation | Birth | Death | Known for |
| --- | --- | --- | --- | --- |
| Val Avery | Actor | 14-Jul-1924 | 12-Dec-2009 | The Anderson Tapes |
| George Coulouris | Actor | 1-Oct-1903 | 25-Apr-1989 | Watch on the Rhine |
| Dustin Hoffman | Actor | 8-Aug-1937 | | The Graduate |
| Victor Jory | Actor | 23-Nov-1902 | 12-Feb-1982 | Cat-Women of the Moon |
| Len Lesser | Actor | 3-Dec-1922 | 16-Feb-2011 | Uncle Leo on Seinfeld |
| Steve McQueen | Actor | 24-Mar-1930 | 7-Nov-1980 | The Great Escape |
| Bill Mumy | Actor | 1-Feb-1954 | | Will Robinson on Lost in Space |
| John Quade | Actor | 1-Apr-1938 | 9-Aug-2009 | Every Which Way But Loose |
| Gregory Sierra | Actor | 25-Jan-1941 | | Det. Sgt. Chano on Barney Miller |
| William Smithers | Actor | 10-Jul-1927 | | Jeremy Wendell on Dallas |
| Vic Tayback | Actor | 6-Jan-1930 | 25-May-1990 | Character actor, Papillon, etc |
| Anthony Zerbe | Actor | 20-May-1936 | | Dog boy in Cool Hand Luke |
CAST
Starring
Steve McQueen
... Henri 'Papillon' Charriere
Dustin Hoffman
... Louis Dega
Co-Starring
Victor Jory
... Indian Chief
Don Gordon
... Julot
Anthony Zerbe
... Toussaint
Robert Deman
... Maturette
Woodrow Parfrey
... Clusiot
Bill Mumy
... Lariot
George Coulouris
... Dr. Chatal
Ratna Assan
... Zoraima
William Smithers
... Warden Barrot
Val Avery
... Pascal
Gregory Sierra
... Antonio
Vic Tayback
... Sergeant
Mills Watson
... Guard
Ron Soble
... Santini
And Featuring
Barbara Morrison
... Mother Superior
Don Hanmer
... Butterfly Trader
E. J. André
... Old Con
Richard Angarola
... Commandant
Jack Denbo
... Classification Officer
Len Lesser
... Guard
John Quade
... Masked Breton
Fred Sadoff
... Deputy Warden
Allen Jaffe
... Turnkey
Liam Dunn
... Old Trustee
REVIEWS
Do you know something we don't?
Submit a correction or make a comment about this profile

Copyright ©2019 Soylent Communications