High School Musical (20-Jan-2006)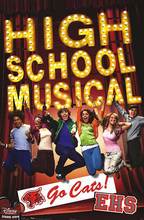 Director: Kenny Ortega
Writer: Peter Barsocchini
Score by: David Lawrence
Producer: Don Schain
Keywords: Comedy, Drama, High School




Two high-school students from decidedly different backgrounds form a special -- and complicated -- connection based around their mutual love of music.
ABSTRACT
Produced for the Disney Channel as a loose adaptation of Romeo & Juliet, High School Musical follows the story of athlete Troy Bolton and bookworm Gabriella Montez, two high-schoolers whose mutual love of music leads to a friendship that threatens to tear their respective cliques apart as they audition for their school's musical together.
CAST
Starring
Zac Efron
... Troy Bolton
Vanessa Anne Hudgens
... Gabriella Montez
Ashley Tisdale
... Sharpay
Lucas Grabeel
... Ryan
Alyson Reed
... Ms. Darbus
Corbin Bleu
... Chad
Monique Coleman
... Taylor
Bart Johnson
... Coach Bolton
Olesya Rulin
... Kelsi
Chris Warren, Jr.
... Zeke
Ryne Sanborn
... Jason
Socorro Herrera
... Mrs. Montez
Joey Miyashima
... Principal Matsui
Dutch Whitlock
... Skater Dude
Ryan Templeman
... Skater Dude
Irene Santiago-Baron
... Chem Teacher
Leslie Pomeroy
... Mrs. Bolton
Joyce Cohen
... Librarian
KayCee Stroh
... Martha Cox
Brett Yoder
... M.C.
Sarah K. Aezer
... Girl #1
Amanda Garrett
... Girl #2
Anne Kathryn Parma
... Susan
Nick Whitaker
... Alan
Falon Grace
... Cyndra
Sami Roe
... Weird Kid #1
Melissa Hildebrant
... Weird Kid #2
Basketball Player Dancers
Charles Klapow
... Dancer
Brad Tobler
... Dancer
David Huff
... Dancer
Carleton W. Bluford
... Dancer
Jared Murillo
... Dancer
Roger Malaga
... Dancer
Todd Schwartzman
... Dancer
Da'Jon Lang
... Dancer
Cheerleader Dancers
Allison Holker
... Dancer
Tina Pituckul
... Dancer
Raquel Goodsell
... Dancer
Britt Stewart
... Dancer
Kelli Baker
... Dancer
Bayli Baker
... Dancer
Jessie Tan
... Dancer
Breanna Phillips
... Dancer
Brainiac Dancers
Skyler Holman
... Dancer
Mollee Gray
... Dancer
Michelle Parker
... Dancer
Andrew Winston
... Dancer
Afton Delgrosso
... Dancer
Falisha Fehoko
... Dancer
Thayne Jasperson
... Dancer
Skater Dude Dancers
Shawn Carter
... Dancer
Eldon Johnson
... Dancer
Josh Murillo
... Dancer
Malinda Money
... Dancer
Sabra Johnson
... Dancer
REVIEWS
Review by anonymous (posted on 12-Jul-2006)
"High School Musical" is very cute and moves fast from one scene to the next. Typical of Kenny Ortega, the choreography is energetic and clean, and the production numbers are well-filmed. The lip-syncing of the solo vocals is poorly done, and many of the plot elements require us to suspend reality for a bit. It also appears that the creators have not spent any time on a public high school campus recently. But the film works and I found myself with a smile on my face. The squeaky-clean cast of attractive young performers showcases a great deal of talent and energy.
---
Do you know something we don't?
Submit a correction or make a comment about this profile

Copyright ©2019 Soylent Communications