Long Lost Son (24-Jul-2006)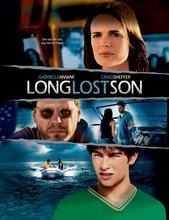 Director: Brian Trenchard-Smith
Writer: Richard Blade
Music: David Reynolds
Producer: Sylvia Hess
Keywords: Drama, Child Custody Battle
Quinn Halloran is divorced by his wife Kristen, receiving only one-day-per-month visitation rights to their son, Mark. During one such visitation, both father and son are lost at sea in bad weather. Kristen moves on with her life, remarrying, but fourteen years later a vacation video taken by one of her friends on the Caribbean island of Saint Alicia shows her dead husband Quinn very clearly, with a strapping young man who may or may not be their son.
REVIEWS
Review by No_Dice (posted on 31-May-2008)
Just trust me, if you are planning to waste two hours of your life do it on something a bit more productive than watching this turkey of a movie. Like setting yourself on fire. The movie is typical Lifetime fair: woman are kind, noble, and self-sacrificing paragons of virtue, while men are scum. In the middle of a messy divorce, saintly Kristin allows her sea-faring soon-to-be ex Quinn take their 4-year-old son Mark for the weekend, after securing a promise from him that he won't take the child sailing in the middle of an up-coming monsoon. Of course he does, and Kristin receives word that the boat has capsized and no signs of Quinn or her child have been found. 14 years later, Kristin is remarried, and while watching a video of a friend's vacation to a tropical island (in one of the silliest plot-devices ever) sees her non-quite-dead ex husband and son (who is now 18 and now has blue eyes instead of brown!) working together at a dive-instruction business. Kristin immediately rushes off to the island, in spite of the small fact that she doesn't have a passport, and for almost all of the remainder of the movie tries to get to her son inspite of those gosh-darn meanie islanders who actually have the gall to be upset that she entered their country illegally. When she does happen to meet up with her son, she of course doesn't tell him who she is, and even listens while the poor boy pours his heart out about his dear "dead" mommy, who died in a fire. When Daddy Quinn realizes what is going on, he whisks Junior off again, setting up the stage for our intrepid heroine to go after her son in a rubber dingy in the middle of a hurricane (yes, I'm serious!). After catching up with them, Kristin faces down the man who allowed her to believe her child was dead for 14 years and -- lets him leave before the police arrive! The movie ends (at which point I almost yelled "THANK YOU GOD! IT'S OVER" with Mama and son going home together while Daddy appears to be stranded by himself on a deserted island. Bad dialog, horrible acting, and plot-holes you could drive a hole through combine to make this one of the worst movies I've seen in years. It's too late for me. Save yourselves.
---
Review by Sari C (posted on 28-May-2009)
Wow, this last reviewer must have read my mind. Some of the worst acting I've seen since college productions and dialongue seemingly written by a child. Not to mention an almost incestuous scene with mother and son rubbing one another's leg in a creepy fashion. The mother is too hot and the son too good looking. When they look into one another's eyes (and why in the world is this beach kid wearing eyeliner?), you get the feeling that they could be a couple. Wait, that's another stupid Lifetime movie. Don't get me wrong, I love Lifetime movies... long lost children are a fav of mine, but this one totally stinks. Why waste all the film and energy with lousy actors and a bad script? Fix it all first, then make the movie.
---
Do you know something we don't?
Submit a correction or make a comment about this profile

Copyright ©2019 Soylent Communications