The Forgotten (24-Sep-2004)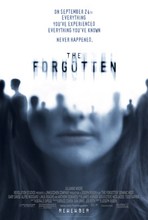 Director: Joseph Ruben
Writer: Gerald Di Pego
Music Composed by: James Horner
Producers: Bruce Cohen; Dan Jinks; Joe Roth
Keywords: Horror, Airplane Crash




A mother devastated by her son's passing works to uncover a conspiracy when she is told that her child never existed.
ABSTRACT
Telly Paretta is in the midst of grieving over young son Sam's recent death in a plane crash when she is informed by her psychiatrist and estranged husband that her child never existed. Attempts to find proof of Sam's existence prove fruitless until Telly crosses paths with Ash Correll, father of another victim of the same plane crash, and sets out with him on a frightening journey to prove themselves correct.
CAST
Julianne Moore
... Telly
Dominic West
... Ash
Gary Sinise
... Dr. Jack Munce
Alfre Woodard
... Anne Pope
Linus Roache
... A Friendly Man
Robert Wisdom
... Carl Dayton
Jessica Hecht
... Eliot
and
Anthony Edwards
... Jim
Christopher Kovaleski
... Sam
Matthew Pleszewicz
... Sam at 5
Katie Cooper
... Library Clerk
Scott Nicholson
... Cop
P. J. Morrison
... Cop
Tim Kang
... Agent Alec Wong
Kathryn Faughnan
... Lauren
Felix Solis
... Brasher
Susan Misner
... Agent Lisa Franks
Lee Tergesen
... Al Petalis
Ken Abraham
... Gas Station Attendant
J. Tucker Smith
... Sheriff Howell
Ann Dowd
... Eileen the Accountant
REVIEWS
Review by Dave Drugs (posted on 22-May-2005)
Except for some gee-whiz computer-generated effects, this go-nowhere science-fiction film falls flat on its face. White suburban mothers will enjoy this film, everybody else will not. Even two fine leftovers, Dominic West from The Wire as a confused parent and Lee Tergesen from Oz as a mysterious government agent, can't save the film. Tune into a re-run of The X-Files instead of this bland, boring waste of time.
---
Do you know something we don't?
Submit a correction or make a comment about this profile

Copyright ©2019 Soylent Communications