Dances with Wolves (4-Nov-1990)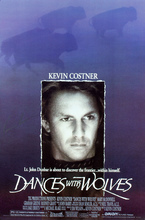 Director: Kevin Costner
Writer: Michael Blake
From novel: Dances with Wolves by Michael Blake
Music Composed and Conducted by: John Barry
Producers: Jim Wilson; Kevin Costner
Keywords: Outdoor Adventure, Civil War




After an act of heroism on the battlefield, Lt. John Dunbar elects to be transferred to a remote western outpost. He finds himself alone, surrounded by the wilds and unfriendly Sioux. Over time he earns acceptance and adoption by the tribe, a situation viewed dimly by other white men. Won 7 Oscars including Best Picture, Best Director, Best Cinematography, Best Screenplay and Best Score; received nominations for 5 others including Best Actor and Best Supporting Actor and Actress. Entered 2007 into the National Film Registry.
CAST
Kevin Costner
... Lt. Dunbar
Mary McDonnell
... Stands With A Fist
Graham Greene
... Kicking Bird
Rodney A. Grant
... Wind In His Hair
Floyd Red Crow Westerman
... Ten Bears
Tantoo Cardinal
... Black Shawl
Jimmy Herman
... Stone Calf
Charles Rocket
... Lt. Elgin
Robert Pastorelli
... Timmons
Larry Joshua
... Sgt. Bauer
Tony Pierce
... Spivey
Tom Everett
... Sgt. Pepper
and
Maury Chaykin
... Maj. Fambrough
Nathan Lee Chasing His Horse
... Smiles A Lot
Michael Spears
... Otter
Jason R. Lone Hill
... Worm
Doris Leader Charge
... Pretty Shield
Kirk Baltz
... Edwards
Wayne Grace
... Major
Donald Hotton
... Gen. Tide
Annie Costner
... Christine
Conor Duffy
... Willie
Elisa Daniel
... Christine's Mother
Percy White Plume
... Big Warrior
John Tail
... Escort Warrior
Steve Reevis
... Sioux #1 / Warrior #1
Sheldon Wolfchild
... Sioux #2 / Warrior #2
Wes Studi
... Toughest Pawnee
Buffalo Child
... Pawnee #1
Clayton Big Eagle
... Pawnee #2
Richard Leader Charge
... Pawnee #3
Redwing Ted Nez
... Sioux Warrior
Marvin Holy
... Sioux Warrior
Raymond Newholy
... Sioux Courier
David J. Fuller
... Kicking Bird's Son
Ryan White Bull
... Kicking Bird's Eldest Son
Otakuye Conroy
... Kicking Bird's Daughter
Maretta Big Crow
... Village Mother
Steve Chambers
... Guard
William H. Burton
... General's Aide
Bill W. Curry
... Confederate Cavalryman
Nick Thompson
... Confederate Soldier
Carter Hanner
... Confederate Soldier
Kent Hays
... Wagon Driver
Robert Goldman
... Union Soldier
Frank P. Costanza
... Tucker
James A. Mitchell
... Ray
R. L. Curtin
... Ambush Wagon Driver
Justin
... Cisco
Teddy & Buck
... Two Socks
REVIEWS
Review by Caitie (posted on 8-Oct-2008)
I am a teacher of the Lakota language, and it was this film that first got me interested. I am adopted into a Lakota family now but am an Irish American from the East Coast, so I have learned much about the Lakota since this film came out. Although the Lakota is not spoken well (none of the principal cast was a Lakota speaker and it is a difficult language to master), this movie provides me with a valuable teaching tool. The film is 'Anglicized' in parts (i.e. there were no plural marriages shown, which were common among the Plains tribes back then; the very "Christian" look of the wedding scene with the bride being escorted to the groom's tent, etc..no such fuss was made in reality; the marriage was agreed upon, a bride price was paid, and the lovers were then considered married without a formal ceremony involving the entire village), this was the first 'fly on the wall' insight into Lakota life and this movie did more to undo negative stereotypes of the Lakota than anything that had been made before. Kudos to Costner for insisting on his character learning Lakota and having the Sioux people speak their own language rather than 'magically' being fluent in English, and to using American and Canadian native people in the film rather than using white people playing indians, as had been done so much in the past. Kudos also to the entire look and feel of the movie, so that we could see the basic humanity that all human beings share. Unfortunately, the rampant bigotry in South Dakota against the Lakota is still in full force, but this film..for a short time, at least..helped to bridge that gap a bit and holds up today as an excellent portrait of a once-proud culture that, in many ways, was far more balanced and harmonious than white culture ever will be. This is a 'must see' on an historical level as well as an entertainment level, and it deserved the Oscar for Best Picture of 1990. Truly a masterpiece and a personal best for Kevin Costner in his insight and his courage in insisting on making the film he wanted us to see and not knuckling under to studio pressure to lose the language and subtitles, which would have given us a much less effective and realistic film. Kevin, lila washte echanu ca heun ichantewashtemayakiye kshto!
---
Do you know something we don't?
Submit a correction or make a comment about this profile

Copyright ©2019 Soylent Communications