Blow (29-Mar-2001)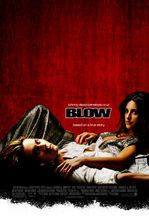 Director: Ted Demme
Writers: Nick Cassavetes; David McKenna
Based on a book: Blow: How a Smalltown Boy Made $100 Million with the Medellín Cocaine Cartel and Lost it All by Bruce Porter
Keywords: True Crime, Biography, Drug Smuggling, Marijuana, Cocaine




Entrepreneuring George Jung starts in 1968 by selling marijuana to his California friends and builds up a rather sizable business, then receives a short prison sentence; incarcerated, he meets Diego Delgado, employed in the Colombian cocaine trade, which leads him to a lucrative partnership with Pablo Escobar. At one point the vast majority of imported cocaine came from his network. Provocative film, uneven at times.
REVIEWS
Review by Vamsee (posted on 20-Feb-2005)
Blow follows the real-life story of George Jung, a cocaine dealer responsible for 85% of cocaine supply to America in late 70's and early 80's.
George's father (played by Ray Liotta) is hard worker. But he doesn't make enough money to keep his wife happy. Growing up in a disputed environment has a profound effect on George and he decides that he's never going to be poor. He moves to California with his friend Tuna. Tuna and George get a small single bedroom apartment at Manhattan Beach. They meet a bunch of airplane stewardesses and George is in love with Barbie. Barbie introduces George to Derek Foreal, a Manhattan Beach legend. They go into dope business together. George, in attempts to higher his profit margin, gets Marijunana directly from Mexico, by flowing across the border in a stolen single-engine Sesna. George is caught in Chicago with 660 pounds of Marijuana. He escapes to be with Barbie, who is suffering from cancer and doesn't have much time left. When he pays his parents a visit after his girlfriend's death, his mother turns him in to the cops. This time, George is sent to Dansbury.
In prison, George is roommates with Diego. Diego introduces George to the wonderful world of Cocaine. As soon as he gets out from prison, George gets in touch with Diego. Diego asks George for a favour. The favour was to get 50 kilos of Cocaine and sell it. George re-unites with Derek Foreal and sells 50 kilos of Blow in just 36 hours. Seeing his success, the Cocaine boss of Columbia, Pablo Escobar, makes Deigo and George his partners. Deigo does not know about George's man Derek in California. George breaks up a Columbian marriage and marries the bride, Mirtha (Penelope Cruz).
When George introduces Derek and Diego, they cheat George and go into business together. George stays low for 5 years after the birth of his daugher, Kristina Sunshine Jung. But on his 38th birthday, George is busted again by the FBI and DEA. Mirtha divorces his and his daughter hates him. After release, he plans up a 4-man operation and plans to take away his daughter to California. But his team sets him up to save their own skin and George lands up in jail, again. He is sentected to Otisville till 2015. He loses the only thing he ever loves -- his daughter.
Johnny Depp's versatile performance is the catching point of the movie. If you are a Johnny Depp fan, this movie is a must.
---
Do you know something we don't?
Submit a correction or make a comment about this profile

Copyright ©2019 Soylent Communications