Monsoon Wedding (30-Aug-2001)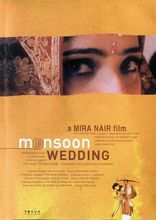 Director: Mira Nair
Writer: Sabrina Dhawan
Music by: Mychael Danna
Producers: Caroline Baron; Mira Nair
Keywords: Bollywood




Traditional culture clashes with latter-day norms during preparations for an arranged Indian marriage.
ABSTRACT
Indian-born Hermant Rai, living in Houston, readies himself for an arranged marriage to Aditi Verma of Delhi. The ceremony is arranged by overbearing Verma family patriarch Lalit, who desires to see his daughter marry his hand-picked suitor despite only knowing him for a few weeks; further complications arise with each member of the Verma camp's concerns and the family maid's burgeoning romance with their hired "wedding contractor", as old ways clash with the realities of modern society.
[watch trailer]
CAST
Naseeruddin Shah
... Lalit Verma
Lillete Dubey
... Pimmi Verma
Shefali Shetty
... Ria Verma
Vijay Raaz
... P. K. Dube
Tillotama Shome
... Alice
Vasundhara Das
... Aditi Verma
Parvin Dabas
... Hemant Rai
Kulbhushan Kharbanda
... C. L. Chadha
Kamini Khanna
... Shashi Chadha
Rajat Kapoor
... Tej Puri
Neha Dubey
... Ayesha Verma
Kemaya Kidwai
... Aliya Verma
Ishaan Nair
... Varun Verma
Randeep Hooda
... Rahul Chadha
and
Roshan Seth
... Mohan Rai
Soni Razdan
... Saroj Rai
Sameer Arya
... Vikram Mehta
Rahul Vohra
... Uday Verma
Natasha Rastogi
... Sona Verma
Vimla Bhushan
... Veena Verma
Ira Pandey
... Vijaya Puri
Dibyendu Bhattacharya
... Lottery
Deepak Kumar Bandhu
... Tameez-Ud-Din
Pankaj Jha
... Yadav
Mohini Mathur
... Old Mother
Sharda Desohras
... P. K.Dubey's Mother
Rumaan Kidwai
... Jibesh
Sahira Nair
... Vandana
Urvashi Nair
... Leena
Ram Kapur
... Shelly
Jas Arora
... Umang Chadha
Rajiv Gupta
... Cop 1
Shubro Bhattacharya
... Cop 2
Rajeev Suri
... Golfer
Vikram Nair
... Golfer
Rajeev Bal
... Golfer
Raman Chawla
... Talk Show Panelist #1
Milan Moudgill
... Talk Show Panelist #2
Himani Dehlvi
... Talk Show Panelist #3
Nishi Singh Bhadli
... Dubbist
Neelu Khanna
... Talk Show Assistant
Motilal Khare
... Saree Salesman
Paritosh Sand
... Jai Chand
Ambar B. Capoor
... Photographer
Renuka
... Woman in the Rain
Inderjit B.
... Foxtrotting Couple
Reena Singh
... Foxtrotting Couple
Madan Bala Sindhu
... Featured Punjabi Singer
Rekha
... Featured Solo Singer
Nilambari Chintamani
... Tuppa Girl
Gita Chopra
... Tuppa Girl
Priya Chopra
... Tuppa Girl
Sabrina Dhawan
... Tuppa Girl
Rimlu Gyani
... Tuppa Girl
Mitva Krishen
... Tuppa Girl
Jyotsana Laroiya
... Tuppa Girl
Lavanya Prabhu
... Tuppa Girl
Veetu Mehta
... Tuppa Girl
Aparna Sarin
... Tuppa Girl
Chitvan Singh
... Tuppa Girl
Sonali Singh
... Tuppa Girl
REVIEWS
Review by Michael Lesch (posted on 10-Jul-2009)
Mira Nair's excellent and very original "Monsoon Wedding" was an absolute triumph for this viewer. I was extremely impressed by the multiple sub-plots which were written as simple stories yet packed a wallop when meshed into the rewarding finale. This served as a somewhat naive introduction to modern Indian culture via cinema but followed the dual language dialog with subtitles (of note were a little shabby) and enjoyed this zesty celebration of life and love. Very funny moments coupled cleverly with extremely serious matters in other quite delicate/risqué scenes - really captured the duality method of storytelling this most welcome to see in realistic comedy/dramas. My only reservation, albeit a slight one, was with some of the actors performances which weak and almost amateurish. Not in the case to of the key/lead roles but some of the supporting/minor characters. Otherwise a sweet and tremendous film experience!
---
Do you know something we don't?
Submit a correction or make a comment about this profile

Copyright ©2019 Soylent Communications