Disturbia (4-Apr-2007)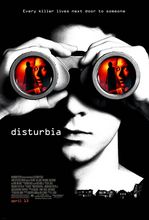 Director: D. J. Caruso
Writers: Carl Ellsworth; Christopher Landon
Keywords: Thriller, Murder Witness




A paranoid teenager placed under house arrest following an incident at school suspects his neighbor to be a serial killer.
ABSTRACT
Kale Brecht (portrayed by Shia LaBeouf in one of his first stabs at a "serious" post-Even Stevens role) is a teenager fraught with emotional strife, placed under house arrest for a series of outbursts following his father's death culminating in his assaulting his Spanish teacher. Bored and eager to find something to occupy his time, Kale begins spying on his neighbors, ultimately plunged into a terrifying situation reminiscent of Alfred Hitchcock's Rear Window when he witnesses what appears to be a killing taking place in neighbor Mr. Turner's house.
[watch trailer]
REVIEWS
Review by NJE (posted on 20-Jul-2007)
I am not a huge fan of horror movies like this, and when I first saw the preview for it, I said it looked too scary and refused to see it. But eventually I got talked into seeing it, and it was indeed scary. But more than that, until Pirates 3 came out, it was my favorite movie of the year! Shia Labeouf was perfect in his role as Kale (I think he's the next Tom Hanks), David Morse was (no pun intended) disturbing as Mr. Turner, Aaron Yoo provided hilarious comic relief as Ronnie, Carrie-Anne Moss was good as (but looked too young to be) Kale's mom Julie, and, last but not least, Sarah Roemer was absolutely gorgeous as girl-next-door Ashley. I would recommend this movie to even the most faint-of-heart.
---
Do you know something we don't?
Submit a correction or make a comment about this profile

Copyright ©2019 Soylent Communications