The Day of the Locust (7-May-1975)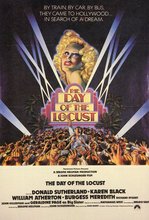 Director: John Schlesinger
Writer: Waldo Salt
From novel: The Day of the Locust by Nathanael West
Keywords: Romantic Drama, Hollywood




Dark tale depicting Hollywood's lost souls and broken dreams. William Atherton is a studio artist, designing sets and costumes. He falls in love with Karen Black, a frustrated actress who will do absolutely anything to further her career, but is quite lacking in the talent department. One of the greatest endings of any film ever made. Received Oscar nominations for Best Supporting Actor and Best Cinematography.
John Schlesinger, quoted in Elsie M. Walker (ed.), Conversations with Directors: "If you talk about adaptations, Day of the Locust was the most difficult one of all. It was really very tough trying to develop it into a story with characters of flesh and blood and a dramatic thrust to the whole thing. When I saw the first cut of the film, I knew it was going to be controversial, but I was very proud of it -- and still am, incidentally. I realized that maybe the casting of Karen Black as Faye was fatal, but I felt we had a really interesting and extraordinary film which by no means was going to be popular."
[watch trailer]
REVIEWS
Review by anonymous (posted on 22-Jun-2005)
This film is very underrated and was a bomb at the box office. Based on a short novel by Nathaniel West, Day of the Locust focuses in Hollywood of the late 30's. As told through an art director working at Paramount, Hollywood is not the glamour capitol of the world. In fact its a haven for hucksters, wanna bes, never weres, and nobodies. The art director sees the people living and working in Hollywood as locusts, open mouthed, feeding, wanting, destroying. Schlesinger paints this Hollywood with great hues and colors. Its depressing and colorful, yet down and disturbing. None of the characters have any real merit and the ending scenes will blow your socks off. One of my all-time favorite films by one of my all-time favorite directors. A must-see.
---
Do you know something we don't?
Submit a correction or make a comment about this profile

Copyright ©2019 Soylent Communications