Cube 2: Hypercube (29-Jul-2002)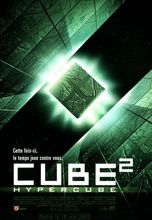 Director: Andrzej Sekula
Writers: Sean Hood; Ernie Barbarash; Lauren McLaughlin
Composer: Norman Orenstein
Producer: Ernie Barbarash




Sequel to 1997's Cube follows eight new strangers confined in a cube-shaped room independent of the laws of physics.
ABSTRACT
Sequel to Cube (1997). Eight strangers stricken with amnesia awaken in a cube-shaped room seemingly independent of the laws of physics and with no clear means of escape. Forced to make do with cryptic clues relating to their imprisonment, the group work to find a way out of their terrifying environment as they face the prospect of a most unusual demise.
| Name | Occupation | Birth | Death | Known for |
| --- | --- | --- | --- | --- |
| Kari Matchett | Actor | 25-Mar-1970 | | Kate Armstrong on Heartland |
CAST
Kari Matchett
... Kate Filmore
Geraint Wyn Davies
... Simon Grady
Neil Crone
... Jerry Whitehall
Barbara Gordon
... Mrs. Paley
Matthew Ferguson
... Max Reisler
Grace Lynn Kung
... Sasha
Lindsey Connell
... Julia
Bruce Gray
... Col. Maguire
Philip Akin
... The General
Greer Kent
... Becky Young
Paul Robbins
... Tracton
Andrew Scorer
... Dr. Rosenzweig
REVIEWS
Review by mizi causevic (posted on 13-Feb-2005)
Naturally, whoever expected Cube 2: Hypercube to be better than the original Cube was dead wrong. I am huge fan of the first Cube and I always knew (since I heard that this was in works actually) that this sequel was not going to blow the first one out of the water. It's basically the same thing all over again and the only better thing about it is the visual aspect. The story line took a difference approach to it and the actors had some really cheesy lines which made me roll eyes quite a few times. However, this is a straight to video/dvd release so I guess everything was expected. All in all, the damn movie takes place in a Cube! What more can you really do that wasn't done and explained in the first one?
In the first movie the Cube the atmosphere was much more suspenseful and the characters were just plain better and generally seemed terrified with their situation. Sadly in Cube 2, some of the characters just did not display the same genuine fear that the first cast had. It almost seemed like a joke at certain parts. By all means, the cast was good, it's just that the script was weak and they could not do a whole lot. Cube 2 also focuses on different things that the first one, more of a "fantasy" and nothing exists type of deal which just made the movie seem like one of those nightmare flicks with a different universe which often seems like a cheap way out of a good story that just did not have a good ending in the first place.
Visually, this movie was stunning. The music was good and suspenseful but everything else was unfortunately below the bar. When it all comes down to it, this is a fun movie to watch on cable or even a decent rental from your local video store if you happen to be a huge fan of the original Cube. Be warned, this movie is not as good as the first one, but it is still cool to watch.
---
Do you know something we don't?
Submit a correction or make a comment about this profile

Copyright ©2019 Soylent Communications