Confessions of a Dangerous Mind (31-Dec-2002)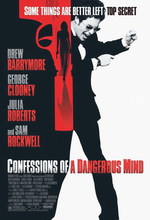 Director: George Clooney
Writer: Charlie Kaufman
Based on a book by: Chuck Barris
Music by: Alex Wurman
Producer: Andrew Lazar
Keywords: Drama, Espionage, Biography




Biographical thriller depicts the life of Chuck Barris, a game show host who'd claimed to have worked as an assassin for the CIA.
ABSTRACT
Inspired by the controversial 1984 memoir of the same name, Confessions of a Dangerous Mind details the life and times of Gong Show and Dating Game creator-cum-supposed assassin Chuck Barris, portraying him as responsible for the elimination of thirty-three separate targets in his time with the Central Intelligence Agency. Though Barris himself has stood by his claims, independent sources and the CIA themselves have expressed serious doubts about their veracity on numerous occasions.
[watch trailer]
CAST
Sam Rockwell
... Chuck Barris
Drew Barrymore
... Penny
George Clooney
... Jim Byrd
Julia Roberts
... Patricia
Rutger Hauer
... Keeler
Maggie Gyllenhaal
... Debbie
Robert John Burke
... Instructor Jenks
Jennifer Hall
... Georgia
Kristen Wilson
... Loretta
John Todd Anderson
... Stud Bachelor
Carlos Carrasco
... Brazioni
Emilio Rivera
... Benitez
Daniel Zacapa
... Renda
Krista Allen
... Pretty Woman
Michael Ensign
... Simon Oliver
James Urbaniak
... Rod Flexner
Dick Clark
... Himself
Michelle Sweeney
... Housekeeper
Chelsea Ceci
... Tuvia (8 years)
Michael Cera
... Chuck (8 and 11 years)
Aimee Rose Ambroziak
... Chuck's Date #1
Isabelle Blais
... Chuck's Date #2
Melissa Carter
... Chuck's Date #3
Ilona Elkin
... Georgia's Girlfriend
Sean Tucker
... Barfly
Jaye P. Morgan
... Herself
David Hirsh
... Freddie Cannon
Jerry Weintraub
... Larry Goldberg
Frank Fontaine
... ABC Executive
Rachelle Lefevre
... Tuvia (25 years)
Gene Gene Patton
... Actual Gene Gene
Barbara Bacci
... Woman in Veil
Janet Lane
... Blonde Bachelorette
Shaun Balbar
... Beanpole Bachelor
Jeff Lefebvre
... Frizzy Hair Bachelor
Michael Filipowich
... Handsome Bachelor
Samantha Banton
... Black Bachelorette
Christian Paul
... Black Bachelor
Jim Lange
... Himself
Steve Adams
... Dating Game Director
Maria Bertrand
... Stud Bachelorette
Brad Pitt
... Bachelor Brad
Matt Damon
... Bachelor Matt
Murray Langston
... Actual Unknown Comic
Marlida Ferreira
... Woman in Pub
Jerome Tiberghien
... Englishman
Martin Kevan
... Chuck's Father
Claudia Besso
... Chuck's Mother
Isabelle Juneau
... Amana Girl
Nathalie Morin
... Bachelorette Winner
Tony Zanca
... Bachelor Winner
Sergei Priselkov
... Shaving Man
Norman Roy
... Colbert
Marlene Fisher
... Casting Executive Woman
Richard Kind
... Casting Executive Man
Suyun Kim
... Asian Folksinger #1
Shulan Tuan
... Asian Folksinger #2
Andre Minicozzi
... Gong Show Band
Richard Beaudet
... Gong Show Band
Ron Di Lauro
... Gong Show Band
Peter N. Wilson
... Gong Show Band
Bruce Pepper
... Gong Show Band
Francois St-Pierre
... Gong Show Band
Cheryl Murphy
... Little Person
George Randolph
... Gene Gene
Pascale De Vigne
... Critic
Carlo Berardinucci
... Waiter
Tanya Anthony
... Prostitute
Andrée-Anne Quesnel
... Gong Show Model
Keshav Patel
... Elvis Singer
Leslie Cottle
... L.A. Bar Woman
Dino Tosques
... L.A. Bartender
Joe Cobden
... Unknown Comic
Ethan Thomas C. Dempster
... Chuck (5 years)
Tommy Hinkley
... Hambone Man
Bill Corday
... Justice of the Peace
Chuck Barris
... Actual Barris
REVIEWS
Review by anonymous (posted on 20-Jul-2005)
This is one of the strangest movies I have ever watched. I did like the commentaries by the game show hosts and other celebrities who knew him. The insights into his crazy mind were interesting. I sincerely doubt he was a CIA agent. Though those facts couldn't be verified considering it was the CIA. The movie doesn't make me want to go out and buy the book or even read the book. I am curious about his life and wonder how much of it is in fact true. I give it two stars because it wasn't so bad I wanted to change the station. I also felt somewhat compelled to watch the movie just to see what was going to happen next. Since I was at home viewing the movie on the television, it wasn't going to be horrible if I switched stations or left the room.
---
Do you know something we don't?
Submit a correction or make a comment about this profile

Copyright ©2019 Soylent Communications