Angel and the Badman (15-Feb-1947)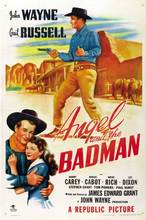 Director: James Edward Grant
Writer: James Edward Grant
Musical Score: Richard Hageman
Producer: John Wayne
Keywords: Western




Feared gunslinger Quirt Evans, wounded in crossfire, is taken in by a peaceful Quaker family to recuperate; on waking, the family's daughter, angelic Penelope Worth played by Gail Russell, falls for him. But is Quirt ready to change his ruthless ways? Western with elements of romantic comedy, beautifully filmed in Sedona, Arizona.
[watch trailer]
| Name | Occupation | Birth | Death | Known for |
| --- | --- | --- | --- | --- |
| Bruce Cabot | Actor | 20-Apr-1904 | 3-May-1972 | Saved Fay Wray from King Kong |
| Harry Carey, Sr. | Actor | 16-Jan-1878 | 21-Sep-1947 | VP in Mr. Smith Goes to Washington |
| Lee Dixon | Actor | 22-Jan-1914 | 8-Jan-1953 | Ready, Willing and Able |
| Tom Powers | Actor | 7-Jul-1890 | 9-Nov-1955 | Double Indemnity |
| Marshall Reed | Actor | 28-May-1917 | 15-Apr-1980 | Insp. Fred Asher on The Lineup |
| Irene Rich | Actor | 13-Oct-1891 | 22-Apr-1988 | The Mortal Storm |
| Gail Russell | Actor | 21-Sep-1924 | 26-Aug-1961 | Angel and the Badman |
| John Wayne | Actor | 26-May-1907 | 11-Jun-1979 | The Duke |
CAST
REVIEWS
Review by rchrischris (posted on 19-Feb-2005)
This movie is perhaps John Wayne's best "cowboy" work. Gail Russell (Penny) and Mr. Wayne (Qwirt Evans) have a wonderful charisma as they work the magic of their talent to tell a wholesome story of a "bad" guy who falls in love with the ultimate innocence. She and her family are part of a group of Quakers in the area who have homesteaded in the valley. Qwirt meets them in the opening scenes of the movie as he races to the telegraph office to file on land that Laredo Stevens (Bruce Cabot) feels he should own. The story weaves around the sherriff (Harry Carey, Sr.) trying to get the goods on both Laredo and Qwirt. The sherriff is annoyed at Qwirt for being with such a nice girl, no such woman for a man like Qwirt. With a really good supporting cast, the story is told. And, in the end, good prevails and Qwirt rides off in the back of a wagon with the girl.
---
Do you know something we don't?
Submit a correction or make a comment about this profile

Copyright ©2019 Soylent Communications