Artificial Intelligence: AI (26-Jun-2001)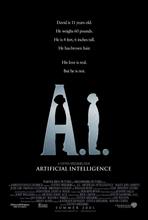 Director: Steven Spielberg
Writers: Steven Spielberg; Ian Watson
From short story: Supertoys Last All Summer Long by Brian Aldiss
Keywords: Sci-Fi, Robots, Dystopian




A humanoid robot embarks on a quixotic journey to become "real", thereby earning his adoptive mother's true affection.
ABSTRACT
Global warming ravages a near-future Earth by drowning our planet's coastal cities, forcing the human race to retreat inland. Driven to innovate just as they had during so many other calamities throughout history, humanity invents the "mecha", a hyper-realistic humanoid robot designed to assist humans in saving themselves; one such robot, David, becomes the property of a woman intending to nurture him as a replacement for her son stricken with an incurable disease, soon setting out on a Pinocchio-esque quest to become "real" as a means of winning his mom's love after a cure for her son's ailment is discovered and he is returned home.
Strong character development and a gripping narrative largely make up for this Steven Spielberg epic's overindulgence in popcorn-grabbing sap. Nominated for Academy Awards for Best Original Score and Best Visual Effects.
REVIEWS
Do you know something we don't?
Submit a correction or make a comment about this profile

Copyright ©2019 Soylent Communications