God Is My Co-Pilot (21-Feb-1945)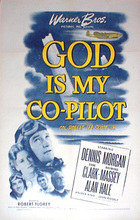 Director: Robert Florey
Writers: Peter Milne; Abem Finkel
Based on a book by: Col. Robert Lee Scott, Jr.
Music by: Franz Waxman
Producer: Robert Buckner
Keywords: Action/Adventure, WWII




Robert L. Scott joins the Flying Tigers squadron, and fights Tokyo Joe, an American-educated Japanese flying ace. Good propaganda film made during the closing days of WWII.
CAST
REVIEWS
Review by Anita Faas (posted on 17-Jul-2007)
This is a great movie mainly because of its unabashed religious sentiment. No PC watered-down version of right and wrong, the movie shows what made America great and the courage that people possessed to keep us free. I'm not sure most of us are worthy of the tremendous sacrifices our previous generations made for us.
---
Review by David Bond (posted on 17-Jul-2007)
One of the best movies ever covering General Chenaults Flying Tigers. Great flying scenes of P40's. Obvious propaganda reflects the anti-Japonese sentiment of the times.
---
Do you know something we don't?
Submit a correction or make a comment about this profile

Copyright ©2019 Soylent Communications