Breaker Morant (16-May-1980)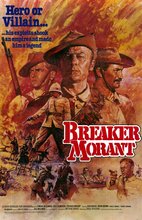 Director: Bruce Beresford
Writers: Jonathan Hardy; David Stevens; Bruce Beresford
From a play: Breaker Morant by Kenneth Ross
Producer: Matthew Carrooll
Keywords: Drama, Boer War, Courtroom




Three volunteer Bushvelt Carbineers lieutenants, Harry Morant, John Handcock and George Witton, are court martialed by the Australian government during the Boer War for summarily executing their prisoners, an act they were ordered to do by standing orders issued by the same government. Those who issued the orders, of course, are not charged. This act of injustice is done to appease the German government. Excellent script; a finely acted production. Received an Oscar nomination for Best Adaptation, and also a nomination for the Palme d'Or at Cannes.
CAST
Edward Woodward
... Harry "Breaker" Morant
Jack Thompson
... Maj. J. F. Thomas
John Waters
... Capt. Alfred Taylor
Bryan Brown
... Lt. Peter Handcock
Charles Tingwell
... Lt. Col. Denny
Terence Donovan
... Capt. Simon Hunt
Chris Haywood
... Cpl. Sharp
Vincent Ball
... Col. Ian Hamilton
Ray Meagher
... Sgt. Maj. Drummond
Alan Cassell
... Lord Kitchener
Russell Kiefel
... Christiaan Botha
Rob Steele
... Capt. Robertson
Introducing
Lewis Fitz-Gerald
... Lt. George Witton
Also Starring
Rod Mullinar
... Maj. Charles Bolton
Chris Smith
... Sgt. Cameron
Bruno Knez
... Rev. Hess
John Pfitzner
... Boer Leader
Frank Wilson
... Dr. Johnson
Michael Procanin
... Visser
Ray Ball
... Court Reporter
Wayne Bell
... Lt. Reed
Halifa Cisse
... Black Guide
Norm Currer
... Boer Singer
Bridget Cornish
... Hunt's Sister
Judy Dick
... Mrs. Shields
Barbara West
... Mrs. Vanderberg
Ria Erskine
... Boer Girl
Ian Gray
... BM Thomas
Sylvia Horseman
... Boer Pianist
Dick Henderson
... Capt. Nicholson
Alan Lovett
... Scots Sentry
Trevor Mann
... BM Little
Jon Nicholls
... Lt. Baxter
Peter Osborn
... Minister
Ron Peterson
... Feist
Don Quin
... Witton's Father
Maria Reed
... Boer Girl
Ron Rodger
... English Orderly
Nellie Seidel
... Boer Girl
Laurie Walton
... Judge Advocate
Hank Bernard
... Large Boer
Elspeth Radford
... Handcock's wife
REVIEWS
Review by anonymous (posted on 25-Mar-2006)
Breaker Morant is a powerful courtroom drama based upon the true story of three Australian soldiers during the Boer War. It is a well directed, beautifully made movie, with first rate performances. Starting with the main characters already on trial, the story is told in flashbacks. As part of an irregular unit raised especially to counter Boer guerillas, the main characters are informed by their English captain of new orders received from the British High Command to execute their prisoners. The Australians carry out the orders, but are later charged with murder after their captain is killed in battle.
---
Do you know something we don't?
Submit a correction or make a comment about this profile

Copyright ©2019 Soylent Communications