Lonely Are the Brave (24-May-1962)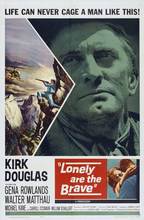 Director: David Miller
Writer: Dalton Trumbo
From novel: Brave Cowboy by Edward Abbey
Music: Jerry Goldsmith
Producer: Edward lewis
Keywords: Western




One of the last open-range cowboys clashes against the 20th Century, finding the range increasingly walled off and times passing him by. His misguided attempt to help out an old pal makes him the subject of an extended manhunt. Perhaps Kirk Douglas's finest performance, and his own favorite. It was Douglas himself who read Abbey's novel, optioned the rights, and shepherded the film through production.
[watch trailer]
| Name | Occupation | Birth | Death | Known for |
| --- | --- | --- | --- | --- |
| Kirk Douglas | Actor | 9-Dec-1916 | | Spartacus |
| George Kennedy | Actor | 18-Feb-1925 | 28-Feb-2016 | Airport, Naked Gun |
| Walter Matthau | Actor | 1-Oct-1920 | 1-Jul-2000 | Messy half of the Odd Couple |
| Carroll O'Connor | Actor | 2-Aug-1924 | 21-Jun-2001 | Archie Bunker in All in the Family |
| Gena Rowlands | Actor | 19-Jun-1930 | | A Woman Under The Influence |
| William Schallert | Actor | 6-Jul-1922 | 8-May-2016 | Martin Lane on The Patty Duke Show |
CAST
REVIEWS
Review by David M. Wolf (posted on 27-Aug-2007)
This spirited film in which Kirk Douglas stars, his own favorite among many in which he did his fine work, is unique. It is the work of a great screen writer, Dalton Trumbo, whose vision and focus provides the movie's artistic core. It's a cowboy story; it's a horse story; it's a sad story too. Real cowboys "cannot make it" as Walter Mathou's character, the sheriff in pursuit, says it. The sheriff refers to the cowboy's stunning climb over a high mountain ridge with his horse to escape the law, but the phrase also describes how cowboys can no longer exist in a world now dominated by helicopters, autos, highways and trucks, radio communications, and most damning of all systems of identification. All these things are poison to real cowboys. The wonderful palomino "Whisky" steals every scene and, ultimately, viewer's hearts as he had already won the loyalty and love of the brave cowboy. Whiskey's fate is, in Trumbo's script, the destiny of the main character; together their stories become one.
---
Review by Braddy (posted on 18-Oct-2005)
This was, is, and always will be a great movie for me. It is a story of real life, real dreams of men and real sacrifices our women have made for their love.
I have only one disagreement with Kirk Douglas: the title. I have read that Kirk never liked the title and really could not even understand the title. I think the show itself gives up the name and meaning for the title. "Lonely are the brave" Kirk sacrificed his true love in this movie because of the freedoms he needed as a man, his price? Lonely even dying alone and cold. Why? Because of his other needs in life and the love he had for his woman, but he could not her to suffer the way of life he needed, thereby showing his BRAVERY. And his woman? Yes, she had a man she loved, and the son she wanted with Kirk, and she lived her life faithfully, and BRAVELY, with LONELINESS for the man she so loved always deep down inside her. And her husband? Well, I think every man can see the loneliness he experienced knowing his wife had this deep love and always would for Kirk. And his BRAVERY to live with this and still have all the unselfish love he had for the son, his wife, and yes, even still for his good and best friendship in Kirk. They all shared each other and shared the love and LONELINESS and BRAVERY together in their lives. I see this movie completely filled with the "brave and lonely." And after all these years of Kirk Douglas being one of my most favorite actors... and this movie... I can't even guess how many times I have watched it with loneliness and tears, 100'S for sure, and now? I have shared Kirk's stroke of luck, not as bad as Kirk's it appears, Thank God, but I can feel some of the things he has had to bear...loneliness and bravery... Thank you Kirk for all these years and your "stroke of luck."
---
Review by Ana (posted on 4-May-2007)
My husband and I watched this and enjoyed it for the tenacity of Burns who displayed a big heart and yet a foolish one at times. Wish the picture had been in color so we could have enjoyed the fantastic photography of where it was filmed. What a beautiful horse, my husband was more saddened by her death than Burns. We have to presume he did, how sad, had he left sooner, he might have made it. Sheriff was rooting for him, but why the chewing gum?
---
Do you know something we don't?
Submit a correction or make a comment about this profile

Copyright ©2019 Soylent Communications