Dr. Strangelove or: How I Learned to Stop Worrying and Love the Bomb (29-Jan-1964)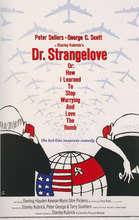 Director: Stanley Kubrick
Writers: Stanley Kubrick; Terry Southern; Peter George
From novel: Red Alert by Peter George
Music: Laurie Johnson
Producer: Stanley Kubrick
Keywords: Dark Comedy, Nuclear War, POTUS, Cold War, Nazis, Explosions




Rogue American General Jack D. Ripper, concerned about his precious bodily fluids, launches an irreversible nuclear attack on the Soviet Union; the Soviet ambassador warns of the existence of their Doomsday Machine which will annihilate all life on Earth in response to just such an attack. Peter Sellers plays three roles brilliantly in this dark Cold War satire which stands alone in its class. Received Oscar nominations for Best Picture, Best Actor, Best Director, and Best Screenplay. Won Hugo for Best Dramatic Presentation. Entered 1989 into the National Film Registry.
| Name | Occupation | Birth | Death | Known for |
| --- | --- | --- | --- | --- |
| Jack Creley | Actor | 6-Mar-1926 | 10-Mar-2004 | Dr. Strangelove, Videodrome |
| Sterling Hayden | Actor | 26-Mar-1916 | 23-May-1986 | Jack D. Ripper in Dr. Strangelove |
| James Earl Jones | Actor | 17-Jan-1931 | | Voice of Darth Vader and CNN |
| Slim Pickens | Actor | 29-Jun-1919 | 8-Dec-1983 | Tough cowboy actor |
| George C. Scott | Actor | 18-Oct-1927 | 22-Sep-1999 | Patton |
| Peter Sellers | Actor | 8-Sep-1925 | 24-Jul-1980 | Inspector Clouseau |
| Keenan Wynn | Actor | 27-Jul-1916 | 14-Oct-1986 | Col. Bat Guano in Dr. Strangelove |
CAST
Starring
Peter Sellers
... Group Captain Lionel Mandrake
Peter Sellers
... President Merkin Muffley
Peter Sellers
... Dr. Strangelove
George C. Scott
... Gen. Buck Turgidson
Co-Starring
Sterling Hayden
... Brig. Gen. Jack D. Ripper
Keenan Wynn
... Col. "Bat" Guano
Slim Pickens
... Maj. T. J. "King" Kong
with
Peter Bull
... Alexi de Sadesky (Russian Ambassador)
James Earl Jones
... Lt. Lothar Zogg
Tracy Reed
... Miss Foreign Affairs
Jack Creley
... Mr. Staines
and
Frank Berry
... Lt. Dietrich
Robert O'Neil
... Adm. Randolph
Glen Beck
... Lt. Kivel
Roy Stephens
... Frank
Shane Rimmer
... Capt. "Ace" Owens
Hal Galili
... Burpelson AFB staff
Paul Tamarin
... Lt. Goldberg
Laurence Herder
... Burpelson AFB Staff
Gordon Tanner
... Gen. Faceman
John McCarthy
... Burpelson AFB Staff
REVIEWS
Review by Dave Meloche (posted on 6-Apr-2005)
Dr. Stranglove is a black comedy look at the more, much more, sober content of Fail Safe. General Jack D. Ripper, played by Sterling Hayden, is a psychotic Air Force General in command of Burpelson AFB. He orders his wing of B-52s into the air towards their Fail Safe positions, because he is convinced the USSR is polluting our precious bodily fluids. (!)
He figures that will force the USAF to mount an all-out offensive and beat the Russians to the punch.
Col. Mandrake, (Peter Sellers) is an RAF Officer attached to Ripper as a "visiting" Allied officer, and is his 2nd. in Command of Burpelson.
General Buck Turgeson is abley played by George C. Scott, who is all in favor of going ahead with the idea of hitting the Soviets with everything we have. His character acting is superb. He epitomises the "War Hawk" Generals that were all for going head to head with the enemy and getting it solved once and for all.
Peter Sellers also plays the part of Dr. Strangelove, who is confined to a wheelchair. His antics in the scenes in the War Room are prime Sellers... including his "Mein Fueher, I can walk!" Good stuff.
Slim Pickens is cast as the B-52 pilot who takes his plane into the USSR's territory. What goes on in the plane is rather funny, paroding the Fail Safe movie.
If you haven't seen this movie, you have missed one of the best movies in many years. It is in the top 100 movies the AFI has listed.
---
Do you know something we don't?
Submit a correction or make a comment about this profile

Copyright ©2019 Soylent Communications