Step Up (11-Aug-2006)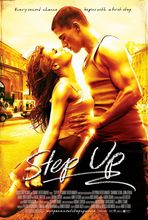 Director: Anne Fletcher
Writers: Duane Adler; Melissa Rosenberg
Keywords: Romantic Drama




An embattled young man struggles with love and his sense of self performing community service at a dance academy.
ABSTRACT
Trouble-making Baltimore street dancer Tyler Gage, accustomed to a life of poverty and petty crime, is sentenced to two hundred hours of community service as a janitor at the Maryland School of the Arts after breaking in one night and vandalizing their stage. Frustrated and distraught over his situation, a dancing Tyler is discovered in the school's parking lot by student and ballet dancer Nora Clark, soon whisked away into a world of competitive dance and romance producing a crisis of conscience when a love-struck Nora solicits his help in crafting her routine.
REVIEWS
Review by anonymous (posted on 27-Dec-2006)
I completely adored this movie, The movie is real, and about real things that people go through not to mention all of the eye candy. I think that they are both extremely well dancers and would be delighted to watch it over and over again. I think that this is just the start of a much longer career for the both of them and really would love for a sequel. This movie just spoke to my heart, it is a movie that you can sit and watch with the whole family and still enjoy very much what you are watching and that is hard to find these days. In my opinion the mix of the dance styles made a beautiful movie and I already own it and watch it quite regularly.
---
Do you know something we don't?
Submit a correction or make a comment about this profile

Copyright ©2019 Soylent Communications