Idiocracy (1-Sep-2006)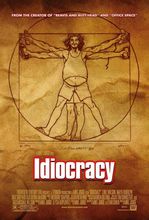 Director: Mike Judge
Writers: Mike Judge; Etan Cohen
Keywords: Action/Adventure, Dystopian, Time Travel, POTUS




Placed into an experimental cryogenic stasis, a dullard awakens after five centuries to find himself the most intelligent member of a dumbed-down society.
ABSTRACT
Joe Bowers, Army private and "average American", is selected by commanding officer Collins to participate in a top-secret "Human Hibernation Project" that would see him existing in cryogenic stasis for a year to test the military's ability to preserve its men until they are needed for high-stakes conflicts; unfortunately for Joe, the project is discovered and disavowed by the President during his big sleep, leading to his being forgotten about. Waking up five hundred years later to a dystopian hellscape presented as a logical conclusion of American consumerism and tendencies towards the path of least resistance, Joe learns that he is now the smartest man alive, charged with helping the President solve an ongoing drought if he wants to avoid being seen as a fugitive by his idiotic brethren.
REVIEWS
Review by Alex Thillet (posted on 8-Apr-2008)
This movie just goes to show how dumb our society is getting, hence the name. It is about Luke Wilson and Maya Rudolph being sent into the future to a world ruled by dumb people. Its full of crazy humor, but other than just laugh it might also make you think: Are we really headed in that direction? In the future we do not water plants with water...we water them with Brawndo! the energy drink thats got what plant's crave, electrolytes!
---
Do you know something we don't?
Submit a correction or make a comment about this profile

Copyright ©2019 Soylent Communications