To Sir, With Love (14-Jun-1967)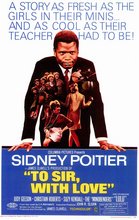 Director: James Clavell
Writer: James Clavell
From novel: To Sir, with Love by E. R. Braithwaite
Music by: Ron Grainer
Producer: James Clavell
Keywords: Drama, Teachers, Mathematics




Mark Thackeray, British engineer from Guyana, is a first-time teacher instructing a class of white, tough near-delinquents in London's East End. Thackeray believes if he treats his defiant charges as adults and with respect, they will respond in kind. Sentimental and completely non-cynical, yet unforgettable drama. Ron Grainer's musical score received a Grammy nomination.
CAST
Sidney Poitier
... Mark Thackeray
Christian Roberts
... Denham
Judy Geeson
... Pamela Dare
Suzy Kendall
... Gillian Blanchard
Ann Bell
... Mrs. Dare
Geoffrey Bayldon
... Weston
Faith Brook
... Mrs. Evans
Patricia Routledge
... Clinty
Christopher Chittell
... Potter
Adrienne Posta
... Moira Jackson
Edward Burnham
... Florian
Rita Webb
... Mrs. Joseph
Fiona Duncan
... Miss Phillips
Fred Griffiths
... Vendor
Mona Bruce
... Josie Dawes
Marianne Stone
... Gert
Dervis Ward
... Mr. Bell
Peter Atard
... Ingham
Sally Cann
...
Grahame Charles
... Fernman
Michael Des Barres
... Williams
Margaret Heald
...
Ellison Kemp
...
Albert Lampert
...
Chitra Neogy
...
Una Pearl
...
Bonita Shawe
...
Anthony Villaroel
... Seales
Richard Willson
...
Stewart Bevan
...
Carla Challoner
...
Joseph Cuby
...
Sally Gosselin
...
Kevin Hubbard
...
Howard Knight
...
Lynne Sue Moon
...
Jane Peach
...
Gareth Robinson
... Tich
Roger Shepherd
... Buckley
Stephen Whittaker
...
The Mindbenders
... Band
Introducing
Lulu
... Barbara Pegg
REVIEWS
Review by Richard Conner (posted on 21-Aug-2007)
An extraordinary film. One of Sidney Poitier's best. Brings a sultry teen played by Judy Geeson into the public eye, and showcases excellent music, including the show's theme, sung by Lulu, who also acts in the film. Introduced as a new teacher into a rough workingclass English neighborhood, Poitier struggles with students who have little initial interest in learning or deportment, but whom he gradually introduces to manners, goals, and ultimate accomplishments. Ultimately he achieves their respect and he takes pride in their transformation, deciding to stay on for additional terms at the school. The film is well cast and the plot well drawn and believable. It will engross and please most viewers, and will appeal to those of all ages.
---
Do you know something we don't?
Submit a correction or make a comment about this profile

Copyright ©2019 Soylent Communications