Howl's Moving Castle (5-Sep-2004)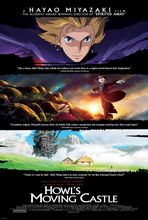 Original Title: Hauru no Ugoku Shiro
Director: Hayao Miyazaki
Writer: Hayao Miyazaki
From novel: Howl's Moving Castle by Diana Wynne Jones
Music by: Joe Hisaishi
Producers: Rick Dempsey; Ned Lott
Keywords: Juvenile

An impressionable young girl cursed by a witch must seek help from a wizard residing in a "walking" castle.
ABSTRACT
Eighteen-year old young woman Sofi is cursed by the nefarious Witch of the Waste, doomed to an old woman's body and helpless to find a way out of her predicament. Unable to continue work at her mother's hat shop, poor Sofi flees for the hills, ingratiating herself with egotistical young wizard Howl and the out-of-this-world residents of his whimsical "walking" castle in an attempt to exact a certain measure of revenge on the wicked witch and return to her old form.
[watch trailer]
CAST
Jean Simmons
... Grandma Sophie (voice)
Christian Bale
... Howl (voice)
Lauren Bacall
... Witch of the Waste (voice)
Blythe Danner
... Madame Suliman (voice)
Emily Mortimer
... Young Sophie (voice)
Josh Hutcherson
... Markl (voice)
and
Billy Crystal
... Calcifer (voice)
Additional Voices
Jena Malone
... Lettie (voice)
Daijiro Harada
... Heen (voice)
Crispin Freeman
... Turnip (voice)
Mark Silverman
... King (voice)
Mari Devon
... Honey (voice)
Liliana Mumy
... Madge (voice)
Carlos Alazraqui
... (voice)
Newell Alexander
... (voice)
Rosemary Alexander
... (voice)
Julia Barnett
... (voice)
Susanne Blakeslee
... (voice)
Leslie Carrara
... (voice)
Mitch Carter
... (voice)
David Cowgill
... (voice)
Holly Dorff
... (voice)
Moosie Drier
... (voice)
Iake Eissinmann
... (voice)
Will Friedle
... (voice)
Bridget Hoffman
... (voice)
Richard Horvitz
... (voice)
Sherry Hursey
... (voice)
Hope Levy
... (voice)
Christina MacGregor
... (voice)
Joel McCrary
... (voice)
Edie Mirman
... (voice)
Peter Renaday
... (voice)
Kristen Rutherford
... (voice)
Warren Sroka
... (voice)
REVIEWS
Review by Hayao Miyazaki (posted on 14-Nov-2007)
Not as good as Miyazaki's other film, Spirited Away, but overall a good movie! In the movie, I love the idea and the story, but Howl seems to be too self-centered. He gets very depressed just because his hair changes color, what a baby! The rest of the story was great, I love Calcifer the most. He's just about the right character befitting a fire!
---
Do you know something we don't?
Submit a correction or make a comment about this profile

Copyright ©2016 Soylent Communications